We are an informal group without any official membership, elected officers or affiliations to any other organisation.
The group comprises enthusiasts mainly in the fields of family history and local history and is involved in recording monumental inscriptions in churches, churchyards and cemeteries throughout Derbyshire, with occasional visits over the county border.
During the winter months effort is transferred to the transcribing of parish registers and other archival records held at the County Record Office, Matlock. These are checked and indexed during' workshop' meetings held in the group's headquarters in Somercotes (near Alfreton).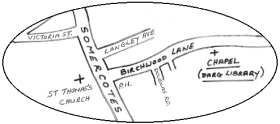 Our meetings are held at:-

BIRCHWOOD METHODIST CHAPEL,
BIRCHWOOD LANE,
SOMERCOTES,
Near ALFRETON.

Check here to see a Google Map of the area. Visitors are very welcome to attend any of our meetings, and may search in our ever-growing library.
Workshop meetings are held every Wednesday, from 09:30a.m. to 1:00p.m, at Birchwood Methodist Chapel.

Or they were, until the COVID epidemic of 2020! To the best of my knowledge, meetings have been suspended.

COVID permitting, those people who are able to visit our Library will be made most welcome. It is very pleasing to note that people do return simply to help with the indexing and filing when they have seen what a happy and industrious group we are. Several people have made family contacts through visiting the Library - by meeting others researching the same family lines, or by being put in touch with other researchers through the use of our files.
DARG's records are not for sale, nor available on computer, but we are very happy to answer enquiries by post. No charges are levied, but donations are always welcome, either from fellow enthusiasts, or from those who benefit from our services.
We can supply full details of specific memorial inscriptions in churchyards and cemeteries or from parish registers, etc. by post, provided they are accompanied by a stamped, self-addressed envelope. Overseas enquirers please note that foreign stamps cannot be used as return postage, therefore please include a donation (in sterling) to cover - at least - the cost of return postage.
We do not have an email address. All communications MUST be by post or by telephone; however as indicated above, we cannot answer queries by post without the cost of return postage. A list of current UK postal charges is available on the Royal Mail website.

For postal enquiries please write to Winifred Waterall, 86 High Street, Loscoe, Heanor, Derbyshire DE75 7LF, UK. We are unable to accept foreign cheques, so all donations must be in sterling. Please make cheques payable to "Derbyshire Ancestral Research Group" ("DARG" alone in not acceptable at our Bank) - thank you.
For telephone enquiries on Library holdings please call Margaret Brooksbank, telephone 01773 604916.

Note: our offer of searches is restricted to our own transcripts and other material in our own Library (as listed on these pages). It does NOT extend to collections elsewhere.
The information on this website is reproduced by Rosemary Lockie from the Derbyshire Ancestral Research Group's twice-yearly Newsletters on an "as is" basis, without any representation or endorsement made, nor warranty of any kind whether express or implied as to its accuracy or completeness, or its fitness for any particular purpose. I have no connection with DARG, other than being a satisfied beneficiary of their service, and I shall not be liable to any person for any loss or damage which may arise from its use.
Return to top of page